Blended Reading for Mastery 
Launching February 27th 2018, this course is running for the 2nd year at Overton Primary – home of the Aspire Teaching School Alliance.  Teachers will gain the confidence and competence to meet the demands of the new reading curriculum and SATs.  Unlike most PD courses, BR4M is school-based, building new approaches to teaching through observing live teaching, simulating lessons, providing planning, and supporting steps to independence.
Click Assessment group at Overton 2018Blended reading Overton 2018 to download flyer
Phone or email Mike Nicholls to book your place 01256 770249
m.nicholls@overton.hants.sch.uk
English Assessment: purposeful, reliable and valid
Many schools are dissatisfied with assessment models and data tracking tools that were put in place when assessment without levels was first introduced, finding they are a drain on teacher time with minimal benefit to build subject understanding or formative adaptations to teaching.
We need assessment that:
assesses what is valued in English – aligned to subject vision and values
supports teachers to plan and adapt provision
builds teachers' understanding of development in English
Subject leaders are invited to join a local action research group at Overton Primary to trial meaningful and manageable approaches to ongoing assessment of English, using Thinktalk planning and assessment materials
Click Assessment group at Overton 2018 to download flyer
Booking contact: Mike Nicholls  
m.nicholls@overton.hants.sch.uk
tel. 01256 770249
Let's Think in English KS2
Launch date: 16th January 2018
The Let's Think in English programme, developed at King's College London, is an approach to teaching that successfully develops the quality and depth of thinking in the classroom through talk. The lessons enhance pupils' ability to reason in increasingly complex ways with high quality texts providing a context for learning. Teachers will gain an improved understanding of progression in English concepts and develop advanced skills in facilitating pupil thinking through discussion.
Through Let's Think in English pupils:
become critical and collaborative thinkers
have the confidence and skills to tackle complex texts
develop values in a social context
Suitable for KS2 colleagues.
To download the flyer click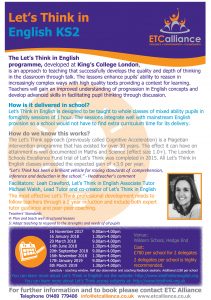 For booking with ETC, follow this
link